Interview
FX: How did you first get interested in making electronic music?
LS: Even from an early age I was obsessed with music and particularly the sounds and the production on records. I was exposed to all sorts of music growing up and I kind of harboured a growing curiosity as to how some of these sounds were made and how they sounded so different from live acoustic instruments. I think my first actual electronic musical instrument was a syndrum drum trigger
FX: You've been producing music for over 20 years, what have been the main turning points for you in your career?
LS: Really I'm doing what I've always done, I think that's important from a mindset point of view. I just think that everything falls inline with what I'm doing at different points in time.
FX: How would you like to improve as a producer?
LS: It's funny, of course I think it's built in to try and make something as good as you can production wise to suit the track you're doing but also and at the same time the essence of a track can be lost by sticking to the norms of production. I have a theory, people pick up on when you've ignored your soul, that's where the magic is.
FX: How has music software affected the way you make music?
LS: I started out using the Atari and cubase, many years back, Midi'ed up with a sampler, keyboards and effects. At that time anyone making electronic music was not thinking retro, we were thinking future. So as technology progressed I've always embraced it from the first software samplers onwards. But I don't think I could make records I made in 1994 in software sound the same and visa versa, software brings new ideas and possibilities to the table. Why not use both.
FX: What are your favourite bits of studio kit and why?
FX: I'm actually a lover of hardware synths in all forms and on the software side I love exploring percussive plugins and effects, and certainly one plugin I do use is FXpansion's Tremor, It's very intuitive, and effective and flexible. I've used it quite a lot on some of the latest PAS tracks.
FX: Do you have any tips or tricks you would like to share?
LS: It doesn't matter what form of music you write, as long as it's good:)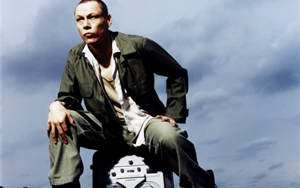 FX: If you could create a plugin that would change your life in the studio what would it be?
LS: Actually I'm still waiting for the advancement of brain wave communication with sound creation for many years.
I've seen some hopeful experiments lately and I hope to live to see it actually happen in a real working common composing enviroment. To me this is the holy grail of input but there's still a long way to go.
FX: Who are your favourite producers at the moment?
LS: As I write I just got hold of an album, albeit a bit late by Hamilton Sterling and Jimmy Hislop called migration, very filmic album, love it. I don't think I really have favourite producers though, just favourite tracks. With my label MOTE EVOLVER, we release music by some great artists that hone their production to the same thinking as music I like and play.
FX: What have you got lined up for the rest of 2014?
LS: It's been very busy so far. We are doing PAS LIVE at some festivals in the summer, and I'm djing all over the place, studio time is always a luxury and one I make sure I give respect to if at all possible.
Interview: April 2014